Professional Services Malpractice
Oklahoma Malpractice Defense Lawyers
We focus on providing timely, equitable results for all involved parties. We are also well-prepared to defend your case before any necessary board or committee.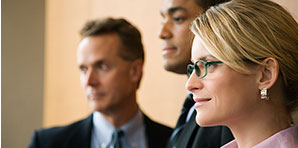 Unlike many other types of liability, professional services liability claims are about more than money. At Secrest Hill Butler & Secrest, we understand that when a malpractice allegation is made, your reputation and business equity are also at stake. Our attorneys make certain that our clients' malpractice claims are thoroughly investigated and quickly resolved, in order to protect their livelihood. We represent a variety of professionals and businesses, including:
Attorneys
Accountants
Real estate firms
Medical professionals
Insurance agencies
Engineers
Architects
Prepared for any Oklahoma Malpractice Case
Our attorneys are prepared to represent you in any professional malpractice or negligence claim. We defend these cases through a team approach, with the client being an essential member of the group. We put your interests first and develop a strategy to help you avoid license suspension, fines and other consequences.
Strong Defense in Professional Malpractice Matters
At Secrest Hill Butler & Secrest, you can be assured of solid, knowledgeable representation in professional malpractice matters. If you have any questions or want to speak with one of our Tulsa professional negligence attorneys, please do not hesitate to contact our office online or call 918-494-5905. One of our attorneys would be happy to speak with you.